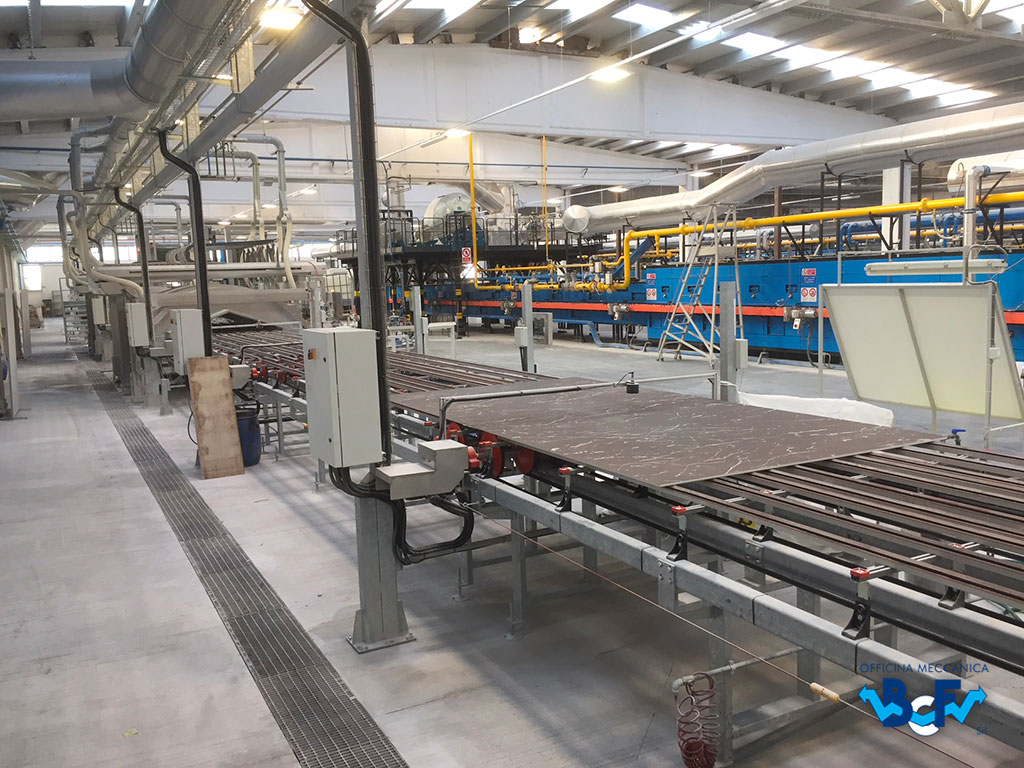 BCF designs and manufactures complete glazing lines for the application of ceramic glaze to tiles and slabs.
The glazing lines consist of various devices and machines, which work together to optimise the ceramic plant's production processes.
The design phase is extremely important in order to ensure that the final result will meet the expectations, and BCF has always been committed to addressing the customer's needs with the utmost professionalism and expertise.
Slab glazing line machines
The glazing lines can be comprised of various devices and machines, including:
engobing machine approach module: used in the section of the tile conveyor line where the movement is interrupted in order to activate the rotary engobing machine

module with collection tank and belt scraper: this device is used in the vicinity of wet applications, and allows the belts to be cleaned of the grit and glaze residues deposited upon them

slab cleaning brushes: the brushes, which are available in different sizes and formats, remove the dust and residues that accumulate on the upper and lower surfaces of the ceramic slabs

roller conveyor with slab crusher: this device is used to remove any non-conforming or defective slabs from the production line and to crush them, thus preventing them from entering the kiln

roller conveyor with slab cutter: this device is used on the line to cut pieces of the slabs to be used as samples or for laboratory testing.
All our tile handling systems